Practice Areas
Our Attorneys
Probate Estate Attorney
Medicaid Planning Attorney
Business Planning Attorney
Real Estate Closing Attorney
Estate Planning Attorney
Criminal Defense Attorney
Service Areas of Western PA
Levine Law provides service to Allegheny County, Beaver County, Butler County, Mercer County, Washington County, Westmoreland County, PA and more. If you do not see your location listed below please contact us.
Butler
Cranberry Township
Grove City
Hermitage
Mars
Monroeville
Murraysville
Pittsburgh
Rochester
Sharon
Wexford
Zelienople
COST-EFFECTIVE REPRESENTATION.
Levine Law provides a direct, cost-effective, and common sense approach to meeting clients' needs and achieving clients' goals.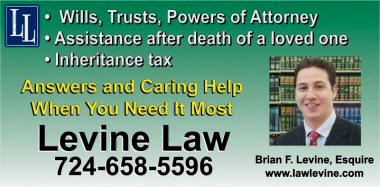 Click to play
Estate Administration
Levine Law helps clients with undertaking the estate administration process after the death of a loved one, such as opening the estate, compiling inventory, and making distribution. We understand that this is a difficult time. We can assist you with preparing and reviewing all necessary paperwork, financial statements, and court filings. Our firm will help from beginning to end during every step of the administration process, whether you are an executor, administrator, trustee, beneficiary, or heir.
Concentrations
Inventory Identification of Assets and Debts

Death Taxes (State and Federal)

Inheritance Tax Returns

First and Final Accounting Filed in Probate Court

Family Settlement Agreements

Estate/Trust Litigation in Probate Court Representing Executor, Administrator, Trustee, Beneficiary, or Heir